"So You Desperately Want to Become a Full Time Work At Home Mom (or Dad!) - But You're Not Sure Where to Begin or How to Keep the Home Business AND the Home Life Thriving Under the Same Roof."
Here is an Easy-To-Follow Common Sense System That Will Have You Earning Regular Paychecks From Home ... FAST

... Even With a Couple of Kids Attached to Your Kneecaps!
1000s of Work At Home Moms (and Dads too) are finding success far beyond their dreams in their own simple to run online businesses ...


adding stable spendable monthly income to their household bank accounts ...


living life at their own pace ...


spending LOTS more precious time with the kids, family, and friends ...


and enjoying every minute of it!
From: Bob Prince
We know you've looked around the Internet and seen dozens if not 100s of opportunities that offer everything from an easy part-time income to fabulous wealth beyond your wildest dreams.

And chances are you've even signed up for some of those ready-made "programs" and invested a few bucks ... then worked your tail off in return for a couple of pathetic "commission checks" that would barely buy you a bagel and coffee.

Well, let's get this outta the way right now ...
We WILL NEVER Abuse You Like That!
There are hundreds of programs that promise riches without doing any work. They just tell you to promote their products and collect a check.

Don't get me wrong. When done right, affiliate programs can provide good steady streams of income.

But here's the downside.

You have to PAY upfront for advertising to generate those sales. When you stop promoting, the sales stop.

And what if the affiliate salespage doesn't do a good job of selling the product? What if conversions are so LOW that your advertising investment turns into a loss?

Now you're beginning to understand WHY we say that the core of your business must surround products and marketing systems that YOU own and control.

Anytime you tack your success onto the coat tails of some other gal or guy, you're in a very insecure and potentially dangerous situation.

So you're about to discover a simple-to-work system that:
puts you in charge of all facets of your own business.

allows you to generate immediately accessible cash - without waiting weeks or months for someone else to mail your "commission check."

and lets you do this at your own pace, anytime you want, without any ongoing advertising costs.
You're Going To Create Cash On Demand With a System That Takes About 3 Hours a Day - Five Days A Week!

Yes, you read that right!

You'll be able to start seeing results in your own Internet based business in as little as a couple of weeks with only a few hours of time invested each day.

I know you're pressed for time with taking care of the kids and keeping up with household chores as well. I've been there and done that too ... so this system is designed to allow you to work as little as possible each day, while you still accomplish your specific goals and take giant steps toward creating a stable but leisurely income from the comfort of your own home.
You Can Even Go Day By Day At Your Own Pace - in Short 30 Minute or 1 Hour Sessions ...
Whatever fits into your schedule and your priorities.

After all, we're talking about you working for you ... so you will never be a slave to anyone's time clock ever again.
You're going to get a system that's broken down into the "only profitable" activities for maximum effect on your web business and ultimately, you're monthly income.

And To Realistically Work Around Your Busy Schedule, You Need A System That Meets The 3 Following Rules ...


Is Step-By-Step & Easy To Follow
Only Requires 30 Minutes A Day To Start Seeing Profits
Doesn't Cost Hundreds Or Thousands Of Dollars To Do


Those 3 Elements Are Already Built Into ...

Working At Home for 21st Century Moms
This new manual destroys all of the myths that have been told about starting a business online.

It really is easy and cheap to do and only requires a small investment of your time.

Everything you could want in a system for starting a profitable web business is here for you.

You're transformation from Stay-At-Home Mom to Stay-At-Home Business Woman will be not only a fun one, but a truly fulfilling experience!


Here is Part of What You'll Find In This Precisely
Written and Easy-To-Read 87 Page Manual ...

How to easily decide what business is right for you and your family

The easy way to get a website up at lightning speed without programming!

Free advertising techniques that are easy to implement

How to run your business in only 30 minutes a day, 5 days a week!

How to close sales while you sleep or take care of baby!

How to automate virtually every aspect of your business for even more saved time!
You'll Feel Great About Contributing a Full-Time Income
To Your Family From a Part-Time Work At Home Effort!
This In-Depth 87 page guidebook will bring you ...

The Path To Financial Abundance

An All New Level Of Pride And Contribution To Your Family

Respect From Your Spouse & Friends

A Completely Easy To Do Systematic Blueprint For Success!

Here's the One Simple Truth Of Creating and Growing
Your Own High Profit Online Business ...
You Must Be Independent!

Yes, it's okay to promote affiliate products and such for extra streams of income. But the core of your business ... your very financial stability ... must be comprised of products or services and a marketing system that you own and control.

YOU MUST NEVER allow your livelihood and the well-being of your family to become dependent on the whims and schemes of some other gal or guy.
Great ... You're Still With Me!

You've already taken more action than 90% of all other people on the Internet.
The fact that you're way down here on the page and still reading tells me a couple of things about you.

You are serious about starting your own Internet based business but you are tired of hyped up sales pitches and "opportunity" websites with silly pictures of glamorous people spilling champagne on glamorous automobiles.

And that you are ready to take real action on your own behalf (no one else will do it for you!) and invest in yourself to build a business that can pay you back every day and every month for your lifetime.
And Since You're SERIOUS About Starting and Growing Your Own Work At Home Business ...
I'll Include 4 Special Training Guides to Help You Get Started
Training Guide #1

The Work At Home Guide to Domains and Webhosting

Avoid costly mistakes and wasted effort!

In 5 minutes you will know how to choose a domain name that works for you and the search engines ... plus you'll know precisely how to tell the difference between a professional webhosting company and a fly-by-night rip off. (Yes, they are out there too.)

Retail Value: $10.00 US
Training Guide #2

The Work At Home Guide to Website Promotion for Small Business

Do you want lots of people to visit your website every day?

Of course you do! But here's a little secret. You really don't want everyone dropping by. Instead, you want website visitors who are pre-qualified - who are already interested in your products.

Here is how you can attract those targeted visitors in truckloads!

Retail Value: $10.00 US
Training Guide #3

The Work At Home Guide to Building Profitable Email Marketing Lists

The money is in the list!

Even huge corporations build and maintain lists of prospects and proven customers.

Here is what you need to know to put your email list building activities on hyperdrive from the start and write yourself a paycheck anytime you choose.

Retail Value: $10.00 US
Training Guide #4

The Work At Home Guide to Profitable Time Management

Time is money - don't lose yours!

Your time is your most precious asset. But working at home presents a unique set of situations and distractions that can easily steal and waste your valuable time - while you end up working more and earning less!

You don't want that, so here is how you can prevent it from the start.

Retail Value: $10.00 US
Okay - It's Time To Get Real
Whether you just want to earn a steady extra income
of $500 or $1000 a month to help make ends meet

Or you want a full-time work at home business that puts
$30K - $60K - or $100K a year in your bank account ...
Success Can Be Yours
All you need is a bit of willingness and commitment to invest just a little of your time into your financial future. After all, no one else is going to do that for you!

We've made it easy to understand and follow this step-by-step blueprint for making a work at home living on the Internet. We will not bog you down with techie speak, steep learning curves, or any complicated software.

In other words .... don't worry about it!

In fact, we're so sure that this guide is exactly what you're looking for - we're backing it up with this solid as a rock no-questions-asked ...
100% Money Back Guarantee

100% Money-Back Satisfaction Guaranteed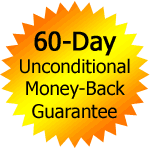 If at anytime in the next 60 days you honestly decide for any reason that "Working At Home for 21st Century Moms" is not for you, then simply email me a full copy of your PayPal receipt.

I will issue a 100% refund of your purchase price within one working day - no questions, no hassle.


Now that's a guarantee you can take to the bank!
Whether you're an active Mom, a stay-at-home Dad, or an involved Grandparent ... You Can't Afford To Ignore
"Working At Home for 21st Century Moms"

Are you ready to earn fat paychecks from your own Work At Home Business?
Then Choose Your Option and Click the Order Button Now ...
- Order User Rights (no resale) -

Current Price - $9.97 US

- IMMEDIATE DOWNLOAD -

- Order Master Resale Rights -

Current Price - $17.00 US

- IMMEDIATE DOWNLOAD -

With Your Success In Mind,

Bob Prince

Contact Us

support@crazynetdeals.com

P.S. Wouldn't you rather work at home and spend your time building your own financial freedom on your terms?

If your mind and your body are both exhausted at the end of each week from selling
40 hours (or more!) of your life to some timeclock ...

... then you cannot afford to ignore "Working At Home for 21st Century Moms"

Click Here and Grab Your Copy Now at the Special Early Release Pricing. Why wait another minute? Start your work at home journey to total financial freedom right now!

EVERY EFFORT HAS BEEN MADE TO ACCURATELY REPRESENT THESE PRODUCTS AND THEIR POTENTIAL. EVEN THOUGH THIS INDUSTRY IS ONE OF THE FEW WHERE ONE CAN WRITE THEIR OWN CHECK IN TERMS OF EARNINGS, THERE IS NO GUARANTEE THAT YOU WILL EARN ANY MONEY USING THE TECHNIQUES AND IDEAS IN THESE MATERIALS. EXAMPLES IN THESE MATERIALS ARE NOT TO BE INTERPRETED AS A PROMISE OR GUARANTEE OF EARNINGS. EARNING POTENTIAL IS ENTIRELY DEPENDENT ON TALENTS, ABILITIES, MOTIVATION AND OTHER ASSETS AND QUALITIES BOTH TANGIBLE AND INTANGIBLE THAT ARE POSSESSED BY OR ARE AVAILABLE TO THE INDIVIDUAL END USERS OF THESE PRODUCTS. IT IS ENTIRELY POSSIBLE THAT NO PROFIT WHATSOEVER WILL BE EARNED BY SOME INDIVIDUAL END USERS. WE DO NOT PURPORT THESE PRODUCTS OR THIS OFFER AS AS A "GET RICH SCHEME."

ANY CLAIMS MADE OF ACTUAL EARNINGS OR EXAMPLES OF ACTUAL RESULTS CAN BE VERIFIED UPON REQUEST. INDIVIDUAL LEVELS OF SUCCESS IN ATTAINING THE RESULTS CLAIMED IN OUR MATERIALS DEPENDS ON THE TIME ONE DEVOTES TO THE PROGRAM, IDEAS AND TECHNIQUES MENTIONED, INDIVIDUAL FINANCES, KNOWLEDGE, AND SKILLS. SINCE THESE FACTORS DIFFER GREATLY ACCORDING TO INDIVIDUAL PERSONS, WE CANNOT GUARANTEE ANY SUCCESS OR INCOME LEVEL FOR ANY INDIVIDUALS, NOR WILL WE BE HELD RESPONSIBLE OR LIABLE FOR THE ACTIONS OR INACTIONS OF ANY INDIVIDUALS NOR FOR THE OUTCOMES AND RESULTS OF THOSE ACTIONS OR INACTIONS. THE WEBSITE OWNERS, PUBLISHERS, PROMOTERS, AND DISTRIBUTORS OF THESE PRODUCTS WILL REMAIN HARMLESS FROM ALL CLAIMS OF LOSS OR INJURY, WHETHER DIRECT, INDIRECT, OR CONSEQUENTIAL, REGARDING THE USE OF THESE PRODUCTS. AS WITH ANY BUSINESS RELATED VENTURE, THERE IS AN INHERENT RISK OF LOSS OF CAPITAL AND/OR OTHER ASSETS. IF YOU ARE UNWILLING OR UNABLE TO INCUR SUCH RISK, WE STRONGLY SUGGEST THAT YOU AVOID PARTICIPATION IN THIS AND ALL OTHER BUSINESS RELATED OFFERS AND OPPPORTUNITIES.




© Copyright 2008-2021 - Bob Prince Media